Current Affairs for IAS Exams

Print/Download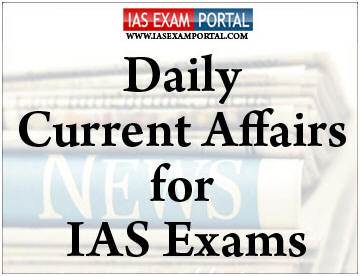 ---
Current Affairs for IAS Exams – 14 December 2021
::NATIONAL::
Buxa Tiger Reserve
Recently a Royal Bengal Tiger has been spotted in Buxa tiger reserve after at least 23 years.
Geographical features:
It is situated at the easternmostextension of extreme bio-diverseNorth-East India and represents thehighly endemic Indo-Malayan region.
The fragile "Terai Ecosystem"constitutes a part of this Reserve.
Location:
Buxa Tiger Reserve lies in Alipurduar sub-division ofJalpaiguri district of West Bengal.
Its northern boundary runs along theinternational border with Bhutan.
The Phipsu Wildlife Sanctuary of Bhutan is contiguous to the North of Buxa Tiger Reserve. Manas NationalPark lies east of Buxa Tiger Reserve.
CLICK HERE FOR FULL CURRENT AFFAIRS (Only for Course Members)
Jyotirlingam Temples ofMaharashtra
Under its Dekho Apna Desh initiatives, the Ministry of Tourism organised a webinar on the Jyotirlingam Temples of Maharashtra' aiming to boost tourism.
About:
A Jyotirlinga orJyotlingamis a devotional representation of Lord Shiva.
Jyotihere means radiance and'Lingam'meansan image or a signof God Shiva. There are a totalof twelve jyotirlinga temples of shiva in India.
These 12 Jyotirlingas are also called 'Dwadash Jyotirlingas'. It is believed that whoever completesthe divine darshan of all of these 12 holy Jyotirlingas is released from the cycle of life and death.
Prominent Jyotirlingas in Maharashtra areTrimbakeshwar (holds kumbh mela), Bhimashankar,Grishneshwar, etc.
::INTERNATIONAL::
India and UAE comprehensive economic partnership agreement
The formal negotiations began in September, 2021 and the aim is to sign a deal by March 2022.
Both the countries have listed products across sectors where they want mutual concessions in the third round of talks held recently.
About:
While the UAE, India's third-largest export destination, currently slaps a 5% duty on textiles & garments and jewellery, certain steel products are taxed at 10%. These three segments alone made up for 34% of India's $16.7 billion exports to the UAE last fiscal and 43% in the pre-pandemic year of FY20.
The India-UAE FTA is expected to raise bilateral merchandise trade to $100 billion in five years following the signing of the pact from about $43 billion in FY21. It also aims to more than double bilateral services trade to $15 billion during this period.
In services, both the sides might clinch a deal on labour-intensive sectors, which would ensure freer movement of skilled professionals. This is expected to boost job creation in both the countries and spur multifarious economic activities.
CLICK HERE FOR FULL CURRENT AFFAIRS (Only for Course Members)
United Nations Convention on the Law of the Sea
India remained committed to promoting a free, open and rules-based order rooted in international law and undaunted by coercion, the Centre informed Parliament while reiterating support for the United Nations Convention on the Law of the Sea (UNCLOS).
About:
As a State party to the UNCLOS, India also supported freedom of navigation and overflight, and unimpeded commerce based on the principles of international law, reflected notably in the UNCLOS 1982.
The United Nations Convention on the Law of the Sea (UNCLOS), also called the Law of the Sea Convention or the Law of the Sea Treaty, is an international agreement that establishes a legal framework for all marine and maritime activities.
The Convention resulted from the third United Nations Conference on the Law of the Sea (UNCLOS III), which took place between 1973 and 1982.
UNCLOS replaced the four treaties of the 1958 Convention on the High Seas.
UNCLOS came into force in 1994, a year after Guyana became the 60th nation to ratify the treaty.
::ECONOMY::
New Gas Stove for Domestic PNG
The Minister of State for Petroleum and Natural Gas, informed that a novel fuel efficient domestic cooking stove for Piped Natural Gas (PNG) has been developed by Petroleum Conservation Research Association (PCRA) in collaboration with CSIR-Indian Institute of Petroleum (IIP) Dehradun.
This is the first product of its kind in the Country. Entire combustion system including burner, mixing tube, venture etc. has been customized in this new stove to handle PNG. 
About:
The stove has been optimized to have the highest thermal efficiency. The newly developed PNG stove has a thermal efficiency of around 55% in comparison to the maximum efficiency of 40% for the modified LPG stoves presently being used on PNG by the domestic households.
PCRA has been promoting this newly developed PNG stove which has a cost almost similar to normal LPG stove. 
PCRA has signed a Memorandum of Understanding (MoU) with the Energy Efficiency Services Limited (EESL) under Ministry of Power for developing and implementing a model for marketing this new PNG stove by EESL for PNG customers on pan India basis.
::SCIENCE AND TECHNOLOGY::
Stand-off Anti-tankMissile
Defence Research and Development Organisation (DRDO) and Indian Air Force (IAF) flight-tested theindigenously designed and developed Helicopter launched SANT Missile from Pokhran ranges.
About:
Stand-off Anti-tank(SANT) missile is equipped with a state-of-the-art millimetre wave (MMW) seeker which provideshigh precision strike capability from a safe distance.
It can neutralise targets in a range up to 10 kms.
This is the third in the series of indigenous stand-off weapons to be tested in recent times after longrange bomb and smart anti airfield weapon (SAAW) for strengthening IAF.
CLICK HERE FOR FULL CURRENT AFFAIRS (Only for Course Members)