War in Ukraine Is Pushing the Last U.S.-Russia Nuclear Treaty Off the Rails
7 September 2022

Print/Download
The ongoing conflict in Ukraine has strained relations between the United States and Russia to their lowest point since the Cold War. With this dangerous downturn in ties has come a new challenge to the already tenuous nuclear cooperation between the two nations with the world's largest weapons of mass destruction stockpiles.
The New Strategic Arms Reduction Treaty (New START) is the last remaining bilateral agreement restricting the nuclear arsenals of Washington and Moscow. Mutual mistrust and the introduction of new, more modern weapon systems have for years raised questions about the deal's fate and the Russian Foreign Ministry's announcement last week that on-site inspections in line with the treaty's verification regime would be temporarily suspended marked an ominous blow to the future of the pact.
Inspections had already been on pause since the spring of 2020 as a result of the COVID-19 pandemic that began to sweep the globe at the time. Recently, however, President Joe Biden's administration pushed for renewing this practice, a request that the Russian Embassy in Washington, D.C. described as "perplexing" because of ongoing disputes—most consequentially, the U.S. decision to ban direct flights from Russia as part of sweeping sanctions put in place in response to the Kremlin's decision to pursue military action against neighboring Ukraine in February.
"The remaining problems stem from the anti-Russian restrictive measures imposed unilaterally by the United States," the embassy told Newsweek in a statement.
The Biden administration has disputed this narrative. A U.S. State Department spokesperson told Newsweek that "U.S. sanctions and restrictive measures imposed as a result of Russia's war against Ukraine are consistent with the New START Treaty and do not prevent Russian inspectors from conducting New START Treaty inspections in the United States."
"The United States has and will continue to engage Russia on the resumption of inspections through diplomatic channels," the spokesperson said.
The Russian Embassy, however, called this position "misleading" due to the feud over flights, not just to the U.S. but also to nations allied with Washington that have followed suit.
"Washington's allies have closed their airspace to transit flights and technical stops of Russian aircraft transporting our inspectors to the U.S.," the embassy said. "Members of our inspection teams and flight crews are prevented to obtain transit visas. The American side has none of these issues. As a result, Washington has got an obvious advantage. Without resolving these issues, it is impossible to resume inspections."
The embassy said that Moscow, therefore, had "no choice but to announce a temporary exemption of the inspection activities from the Russian facilities subject to inspections."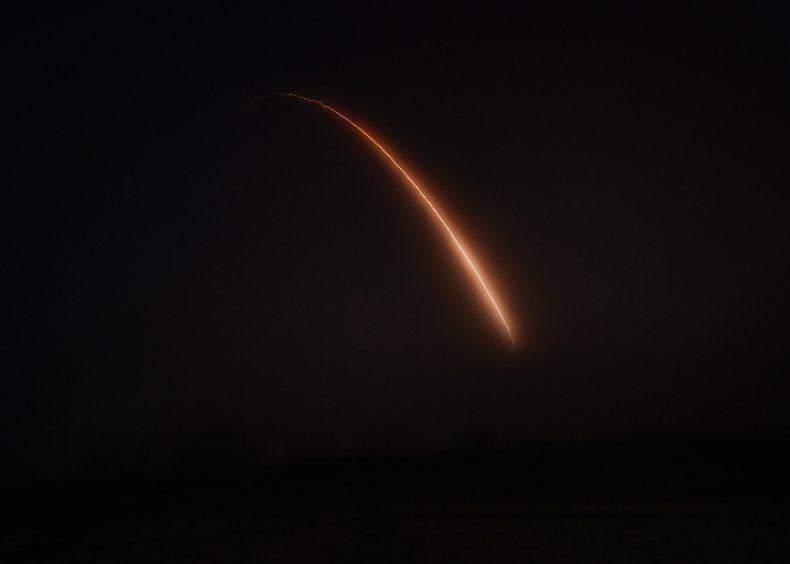 New START, signed in 2010, is the latest version of the original START signed by then-U.S. President Ronald Reagan and his Soviet counterpart, Mikhail Gorbachev, in 1991, just months before the fall of the Soviet Union.
The deal has limited both countries' deployed intercontinental ballistic missiles (ICBMs), deployed submarine-launched ballistic missiles (SLBMs) and heavy bombers to 700; their warheads on deployed ICBMs, on deployed SLBMs and nuclear warheads counted for deployed heavy bombers to 1,550 and their deployed and non-deployed launchers of ICBMs, of SLBMs and heavy bombers to 800.
Critical to this arrangement has been the allowance of mutual inspections to ensure compliance, especially at a time when both countries have set out to update and advance their arsenals.
While the State Department spokesperson told Newsweek that details related to when the latest on-site inspection took place was "confidential under the treaty," the spokesperson affirmed that U.S. officials "continue to assess that Russia is in compliance with the New START Treaty's central limits."
"Both sides have continued to provide data declarations and notifications in accordance with the Treaty," the spokesperson added.
The Russian Embassy, for its part, signaled that Moscow had no intention of walking away from the treaty, which it called "a gold standard in arms control," one that "plays a key role in maintaining strategic stability and preventing an arms race." The embassy said the suspension of inspections "in no way contradicts New START terms and is not permanent in nature."
"Russia is committed to complying with all provisions of the Treaty and seeks to resume its implementation in full as soon as possible," the embassy said. "It is the only working nuclear arms agreement between Russia and the U.S."
Two earlier key treaties reached in the half-century history of non-proliferation measures between Washington and Moscow have already collapsed. First, then-U.S. President George W. Bush pulled out of the 1972 Anti-Ballistic Missile (ABM) Treaty limiting missile defenses two decades ago over alleged concerns of growing missile threats in the wake of 9/11 and, in 2019, then-President Donald Trump left the Intermediate-range Nuclear Forces (INF) Treaty banning land-launched weapons ranging from 310 through 3,420 miles in response to allegations that Moscow built a missile system in violation of the accord.
Russian President Vladimir Putin, who has accused the U.S. of seeking to weaponize anti-missile systems in Eastern Europe for offensive purposes, has responded to the degradation of Cold War-era arms control measures by building more sophisticated nuclear-capable weapons said capable of evading even the most ambitious anti-missile systems. Some of these platforms have already entered service, including the Kinzhal air-launched hypersonic missile that has reportedly seen non-nuclear combat in Ukraine.
New START nearly suffered a similar fate as the Trump administration refused to renew the treaty before it was set to expire in early February of last year. His administration argued that a new deal was needed to include more advanced platforms and additional countries, especially China, which has refused to enter into arms-capping deals due to its far smaller arsenal in comparison to those of the U.S. and Russia.
Just short of two weeks after coming to office and just two days before New STARTS impending collapse, Biden heeded Putin's offer to unconditionally extend the treaty for another five years. But the ongoing breakdown in U.S.-Russia relations, especially amid the war in Ukraine, which Moscow accused of seeking nuclear weapons under the NATO umbrella in spite of Kyiv's emphatic denials, has severely raised nuclear tensions and introduced new uncertainties over whether the two powers that hold roughly 90 percent of the world's nuclear stockpile could continue to work together to limit their most powerful weapons.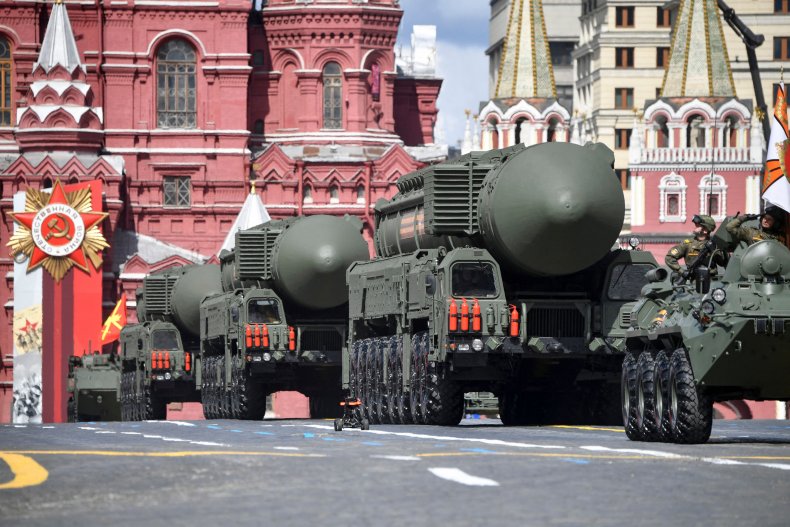 Asked about the future of New START during a press briefing Thursday, State Department spokesperson Ned Price said the U.S. also continued to "see the value of New START."
"It is as valuable to us today—in some ways even more so—than it has been in the course of its existence," Price said. "We want to see the important parameters of New START continue to be implemented."
He referenced Biden's stated commitment to New START in the U.S. leader's message earlier this month to the Nuclear Non-proliferation Treaty (NPT) Review Conference currently underway in New York, saying, "We are prepared, if Russia is willing to engage as a responsible nuclear power, to begin negotiating a new framework once New START expires in the coming years."
But he reiterated that it would take Russia's participation to achieve progress.
"Obviously there are two primary parties to New START—the United States, and Russia," Price said. "Even during times of conflict, this conflict, we've been so far in a position to pursue the shared goals as spelled out under New START, the important goals, when it comes to transparency and arms reduction—again, goals, that are just as important now as they were when New START came into existence.
"So, if it is up to us," he added, "we are going to continue to do everything we can to bolster New START and to see its key provisions preserved."
In its statement to Newsweek, the Russian Embassy also referenced Biden's NPT Review Conference comments as well as a parallel affirmation of the tenets of New START in Putin's own message to the gathering. At the same time, the embassy said "we have received no concrete proposals from Washington on the resumption of the bilateral dialogue on strategic stability."
"Meanwhile the New START Treaty expires in 3.5 years," the embassy said. "The historic record of Russian-US negotiations shows that even if both sides are ready, the remaining time to work out an agreement is extremely short. Especially given that on Washington's initiative the strategic consultations launched in 2021 have been frozen.
"Most importantly," the embassy added, "any interaction on arms control matters must be conducted on an equal basis, with due consideration for mutual concerns and interests."