Leicester City: Relegated EPL team delights fans on Asia tour

Print/Download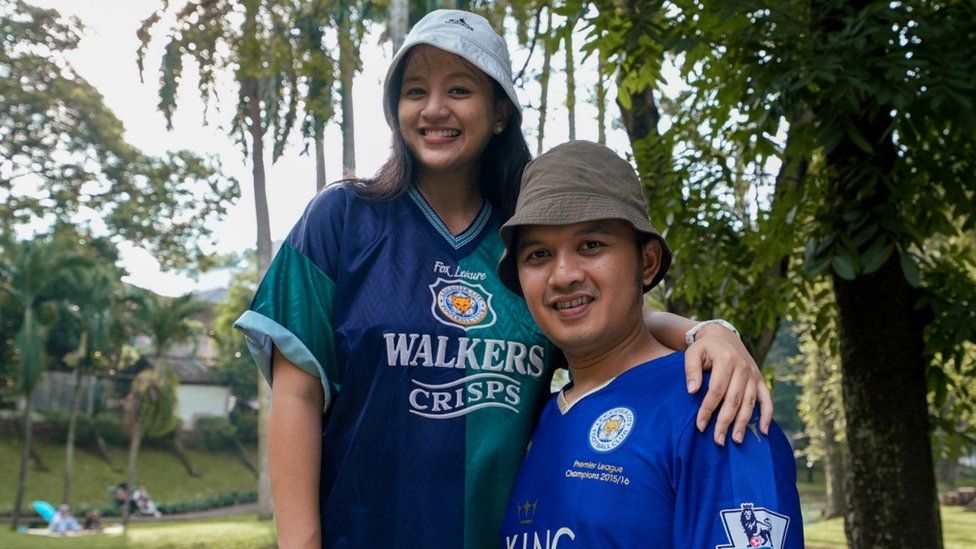 By Adam Hancock
BBC News, Singapore
For almost a quarter of a century Indonesian football fan Bagas Wira Paksi has watched the fortunes of his favourite club wax and wane from thousands of kilometres away.
But this weekend, he hopes to finally cheer on his team in person when Leicester City play Liverpool in Singapore.
"I've supported Leicester from 1999 during the Martin O'Neill era," Mr Bagas tells the BBC.
"When we won [the Premier League] in 2016 there was quite a big, growing fanbase. So many started to support them but right now it's not so big," he adds.
Tours of the region are a standard off-season feature for top-flight teams.
Along with Leicester and Liverpool, the Singapore Festival of Football will host Tottenham Hotspur and Germany's Bayern Munich.
However Leicester's first game, due to take place last Saturday in Bangkok, was cancelled due to heavy rain.
This somewhat inauspicious start to the trip comes at a challenging time for the East Midlands club.
In mid-May, when they announced plans to visit the region, they still had a seat at the top table of English football, and the income that comes with it.
But less than a fortnight later they had dramatically dropped out of the English Premier League (EPL) and into the Championship.
Next season, the club will be heading to the likes of Birmingham City and West Bromwich Albion as they face up to life in English football's second tier.
It is a painful transition for the club's fans and its balance sheet, with lucrative TV revenue gone and only the so-called parachute payments to soften the blow.
"You're effectively looking at a £60m ($77m) reduction in revenue overnight", explains Dan Plumley, a senior lecturer in sport finance at Sheffield Hallam University.
The club's relegation comes after a remarkable 13-year period under the ownership of Thai duty free giant King Power.
Leicester made history in 2016 when they pulled off one of the greatest shocks in football history by winning the EPL.
But they suffered tragedy just two years later when club chairman Vichai Srivaddhanaprabha was killed in a helicopter crash.
"We are so thankful for what the Thai owners did because of the position we were in when they took over – we were still in the Championship," Mr Bagas says.
"They came in with low expectations from us, but it turned out to be the best years for us fans."
Leicester came under Thai ownership in 2010, when it was bought by King Power for £39m from American businessman Milan Mandarić.
"If you look at Leicester's position at that time you can see they were well positioned for some investment", Mr Plumley says.
"Milan Mandarić had got a reputation for building up football clubs and running them very sustainably, not throwing lots of money at them and making them a good opportunity for a takeover," he adds.
The rise of the team under the late Vichai Srivaddhanaprabha began with significant investment.
The new owners cleared the club of £103m of debt in 2013 and also upgraded its ground, renaming it King Power Stadium.
A series of shrewd transfers helped Leicester, ranked 5000-1 outsiders, to stun the world of football by winning the Premier League.
That title secured entry to the Champions League, and with it €49.1m (£42m; $54m) in TV rights alone for their European campaign. The club earnt a total of €81.7m once prize money and bonuses were included.
European football helped Leicester to post pre-tax profits of £92.5m for the financial year up to the end of May 2017.
But in 2018, the death of Srivaddhanaprabha devastated the club. His son Aiyawatt, formerly the club's vice-chairman, took control of Leicester.
"You will naturally see a change in the way the club operates. Because even in a family situation, no two people in the family are the same and operate in the same way.
"I think that was always going to have an impact, but it's unfair to suggest that's the overall problem here", Mr Plumley says.
In 2020, football, along with much of the world, came to a standstill as the coronavirus pandemic struck.
"Covid hit the owners hard. Their duty free business was brought to a halt, so the purse strings at the club had to be tightened," explains BBC Sport football reporter Shamoon Hafez.
Leicester reported a pre-tax loss of £67.3m for the financial year up to the end of May 2020, as the impact of Covid began to bite.
"Leicester's wages to turnover ratio has been averaging 85 to 90 percent over the last couple of seasons and that's a warning sign straight away, because that's pretty much all of your income going on wages," Mr Plumley says.
Despite the challenges of the pandemic, success continued for Leicester as they claimed the FA Cup for the first time ever in 2021.
But the club's previously successful transfer activity began to unravel the following summer.
"They splurged on new signings including Patson Daka, Boubakary Soumare and Jannik Vestergaard, with all three struggling for a regular place in the first team," says Mr Hafez.
On the pitch, Leicester continued to find form, with an eighth place finish in the Premier League and a run to the semi-finals of the Europa Conference League in 2022. But just twelve months later, they were relegated.
"Problems were brewing in pre-season when manager Brendan Rodgers was not given the funds to sign new players," Mr Hafez says.
Leicester fans have also questioned the commitment of their players last season, many of whom were in the final year of their contract.
"Last year we felt the players lost some motivation. They've already won everything except a European cup", says Mr Bagas.
King Power declined comment when approached by the BBC.
Following Leicester's relegation, its chairman released a statement pledging that the club "will come together and fight to return to the Premier League".
In February this year, he also cleared another £194m of Leicester's debt.
However, as fans of many relegated teams know, securing promotion back into the Premier League is no easy task.
Mr Bagas though remains upbeat about Leicester's future and believes that the club's Thai owners can steer them back to the top tier of English football.
"We are still confident that we can bounce back to the Premier league this season.
"The interest from the owner is still there, how they talk, how they cope with the pressure and how they cope with the fans. It's just a blip".