Joe Biden Tests Negative For COVID As Deaths And Hospitalizations Trend Upward

Print/Download
President Joe Biden tested negative for COVID-19 on Tuesday, a day after first lady Jill Biden received a positive coronavirus test result, the White House said.
Press secretary Karine Jean-Pierre told reporters Jill Biden is only dealing with "mild symptoms" and will stay in Delaware for the remainder of the week.
The president is not displaying any COVID symptoms so far, but is taking several precautions under his physician's advice, Jean-Pierre added.
"Since the president was with the first lady yesterday, he will be masking while indoors and around people in alignment" with guidance by the Centers for Disease Control and Prevention, Jean-Pierre said. "And as has been the practice in the past, the president will remove his mask when sufficiently distanced from others indoors and while outside as well."
Biden and Army Capt. Larry L. Taylor, a Vietnam veteran who was at the White House to receive the Medal of Honor on Tuesday, wore masks when they entered the East Room for the ceremony.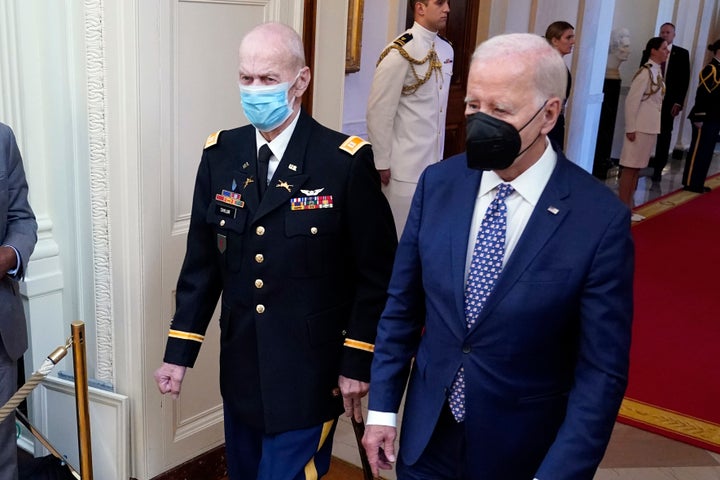 Both took them off shortly after and remained unmasked through the end of the event.
Biden will get tested before he departs for India on Thursday for the Group of 20 summit, Jean-Pierre said during the White House briefing.
Jean-Pierre added the administration will make more tools available to fight COVID as we head into the fall and winter months, noting that updated boosters would be released this month. ABC News reported the shots could be made available "as early as next week."
The EG.5 variant, also known as Eris, continues to dominate COVID cases in the U.S., accounting for 21.5% of total cases, according to estimates released by the CDC for the two-week period ending Sept. 2. Another variant, FL.1.5.1, made up over 14% of cases, the estimates show.
The president of Moderna said last month that the company's clinical trials showed its updated booster "generates a robust immune response against the rapidly spreading EG.5 and FL 1.5.1 strains."
This comes as COVID appears to be spreading across the country.
COVID-related hospital admissions were up 15.7% in the week ending Aug. 26, while deaths due to the coronavirus increased by 17.6% during that same period, according to the CDC.