Amazon adds its 10,000th Rivian electric delivery van to its fleet

Print/Download
let me drive one —

The online retailer has doubled its number of EV vans since July.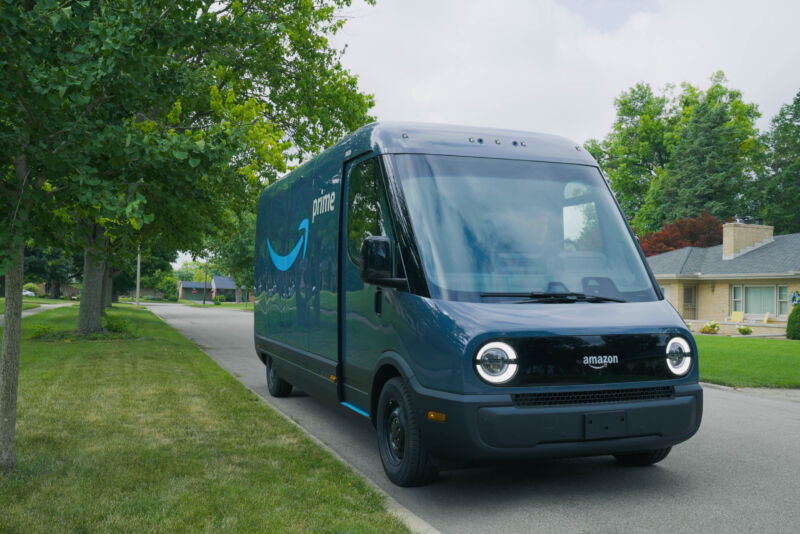 Amazon has a plan to deploy 100,000 electric vans to its delivery fleet by 2030. At the rate it's going, that might happen a little sooner. On Thursday, it announced that it now has 10,000 Rivian electric delivery vans in service—up from 5,000 earlier this July.
Rivian's big order from Amazon was placed in 2019 as part of the online retailer and web service provider's plan to become carbon-neutral by 2040. Earlier that year, Amazon was an investor in a $700 million financing round for the EV startup, which makes electric SUVs and pickup trucks in addition to the Amazon electric delivery vans.
At the time, Jeff Bezos wanted all 100,000 Rivian vans on the road by 2024, but even before the coronavirus pandemic landed in March 2020, that had been revised to 2030. The first Rivian EDVs went into service in 2021.
The EDV shares technology with Rivian's consumer-oriented EVs, although the EDVs are front-wheel drive. Early EDVs, like early Rivian trucks and SUVs, used a twin-motor drive unit at the front axle, but the introduction of a new in-house "enduro" drive unit with a single motor has now superseded that configuration. The vans have a suite of advanced safety systems and have been designed with better ergonomics and safety for the drivers.
Ars went to visit Rivian's factory in Normal, Illinois, in August and found the place teeming with EDVs in various states of assembly.
Evidently, it has delivered a whole bunch of them to Amazon in the past few months. In July, Amazon announced that its fleet was 5,000-strong; now it's doubled in size. Amazon says that the vans are now operating in more than 1,800 cities across the US, "including Alpharetta, Austin, Baltimore, Boston, Cleveland, Charlotte, Chicago, Cincinnati, Dallas, Denver, Grand Rapids, Houston, Indianapolis, Kansas City, Las Vegas, Madison, Miami, Nashville, New York, Newark, Oakland, Omaha, Orlando, Philadelphia, Phoenix, Pittsburgh, Portland, Provo, Rochester, Salt Lake City, San Diego, San Jose, Santa Rosa, Seattle, St. Louis, Tampa and Toledo. Amazon is also rolling out vans in Anaheim, Green Bay, Lexington, and Silver Spring."
After getting behind the wheel of the Ford e-Transit and BrightDrop Zevo 600, Ars will continue to bug Amazon and Rivian so we can complete the set.