The defence dilemma facing NZ's next government: stay independent or join 'pillar 2' of AUKUS?
5 September 2023

Print/Download
Strategy, as the great military thinker Carl von Clausewitz once observed, is the process of effectively applying means to achieve clearly defined ends. But good strategy in global politics has proved easier said than done.
The post-Cold War era is replete with examples of poor strategy, be it the US invasion of Iraq, China's claim to 90% of the South China Sea, or the Russian invasion of Ukraine.
So does the formation of AUKUS – the tripartite security partnership established by the US, UK and Australia in 2021 – offer the prospect of a coherent strategy in the Indo-Pacific region?
More to the point, would New Zealand's involvement advance its national interests? It's an urgent question the next government will need to think about very carefully before deciding.
The means and ends of AUKUS
AUKUS consists of two key pillars. The first involves Australia acquiring eight to ten nuclear-powered submarines from the US and the UK over the next three decades, at an estimated cost of between A$268 billion and A$368 billion.
The second pillar involves the sharing of information in new cutting-edge defence technologies, such as artificial intelligence, quantum computing and cyber capabilities.
---


Read more:
AUKUS is already trialling autonomous weapons systems – where is NZ's policy on next-generation warfare?


---
It is claimed AUKUS will help defend "a shared commitment to the international rules-based order" in the Indo-Pacific region, and promote stability and prosperity by motivating other regional states to enhance their defence (on their own or jointly with the AUKUS governments).
But, to date, AUKUS leaders have failed to make a sustained public case for how the means and ends of this security pact fit together. The arrangement seems to be based on the assumption it will deter or counter China's assertiveness in the Indo-Pacific region.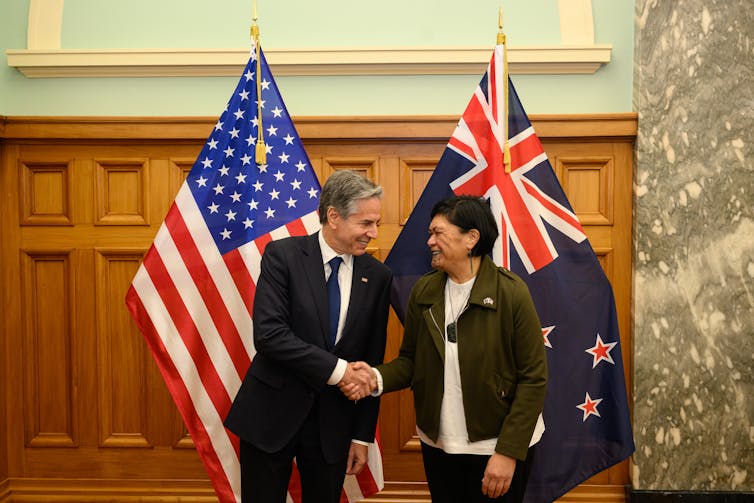 New Zealand and AUKUS
Initially, non-nuclear New Zealand was not involved in AUKUS. But in March, Minister of Defence Andrew Little revealed the country was exploring an invitation from the US to join pillar two.
In late July, US Secretary of State Antony Blinken reaffirmed the "door is open" for New Zealand to engage with AUKUS. To date, the Labour government has not made a clear decision either way.
However, the Ministry of Defence has indicated that national security decisions start from the premise that "we take the world as it is, not how we would like it to be".
In that case, New Zealand must carefully weigh trends at the global, regional and national levels to determine its relationship with an AUKUS pact that has yet to clearly define its strategic purpose.
A complex global picture
New Zealand's recently released "roadmap for the future of defence and national security" emphasised a serious decline in the global security environment.
This is characterised by intensifying rivalry between the US and China, and what is seen as a growing Chinese threat to the international rules-based order New Zealand depends on.
---


Read more:
NZ's first national security strategy signals a 'turning point' and the end of old certainties


---
But this is an incomplete picture. China is an authoritarian state with global ambitions, but these should not be overblown.
The country's rise to superpower status has been built on an outstanding trade performance in the global capitalist economy. And Beijing's one-party state remains too heavily dependent on Western export markets to be a "systemic" threat to liberal democracies.
While China rejected a ruling by the Hague Tribunal in 2016 on its territorial claim in the South China Sea, its revisionist ambitions pale in comparison with those of Vladimir Putin.
Russia illegally annexed Crimea in 2014, and then ripped up the UN Charter in February 2022 with a full-scale invasion of Ukraine, which contravened the core legal principles of state sovereignty and territorial integrity.
---


Read more:
After being a 'welcome guest' at NATO, NZ now needs to consider what our partnership with the alliance really means


---
Moreover, the threat to the international rules-based order has not been confined to authoritarian states. As US president, Donald Trump publicly opposed multilateral institutions like the WTO, launched a trade war with China, and then refused to accept his election defeat in 2020.
And increased globalisation means many of the political, economic and environmental challenges facing nations – including superpowers – transcend borders and cannot be resolved alone.
Nuclear politics
A major problem facing AUKUS lies in its implicit assumption that the 40 or so countries comprising the vast Indo-Pacific region lack the agency and capacity to counter China's domination.
To be sure, Chinese regional and global assertiveness is real. But while those Indo-Pacific states remain wary of China, many do not see themselves as pawns in a global strategic contest between Beijing and the AUKUS partners.
They question whether the Anglosphere represents a credible security response in a region containing 60% of the world's population, significant economic powers like Japan and South Korea, and fast-growing economies such as Vietnam and India.
Also, a number of those states have criticised AUKUS for potentially fuelling nuclear proliferation through the Australian submarine deal. The region is already home to the 1986 South Pacific Nuclear Free Zone and the 1995 Southeast Asia Nuclear Weapon-Free Zone treaties.
---


Read more:
Out of the shadows: why making NZ's security threat assessment public for the first time is the right move


---
NZ independence on the line
Given New Zealand's independent foreign policy based on non-nuclear security and closer ties with the Pacific, joining pillar two of AUKUS presents significant risks to its standing in the world.
New Zealand shares a great deal politically with Australia, the UK and US, and it is important Wellington boosts its defence capabilities.
But its distinctive worldview does not sit comfortably with an implicit AUKUS framing of China as the only major threat to the liberal order, and that the destiny of the Indo-Pacific will be decided by great power competition.
Involvement in AUKUS pillar two looks like a poor strategy for New Zealand. It does little to advance its independent foreign policy interests, including a core commitment to strengthen the international rules-based order. And it could be interpreted in the Indo-Pacific as a retreat back to the Anglosphere.
While the issue is unlikely to be decided before the October election, a new government will soon face the prospect of making a potentially momentous decision about New Zealand's foreign policy direction.